Due to the huge distances between us, the internet has been a godsend for me.  My daughter publishes a lot of photos onto Photobucket and Facebook, so I can easily share in them.  From there, I am able to pass them onto others as well.
Skype Brings My Grandson Closer
I am eager to share how Skype is bringing us closer to family.  As you know Skype is used for chatting online or talking via video cam with friends and family.  It is great for accessibility and reducing phone bills.
Well now, it has opened up a whole new world for me.
My daughter rang and asked me to put Skype on.  Well, the video screen opens up and there I am watching her give Kaiden his first meal.  What an experience!  Rachel has a laptop, so regularly now, when it is convenient for her, she will call me on Skype or text me if I am not in the office, to hop online.  I am greeted with scenes of Kaiden, either being fed, on the floor playing or in his chair.
It is like they are in the same room as me.  I am able to talk to him and he responds.  Kaiden is able to see and hear me clearly.  It warms my heart to see him concentrating on the screen and babbling away to me.
Our little grandson is 6 months old now.  How times flies!  It doesn't look like it will be long before he crawls.  I watch him on the mat, getting his backside up in the air and his legs moving, though his arms and legs have no idea yet that they need to work together.  Regardless, bit by bit, Kaiden is able to inch his way towards the laptop to get closer to me.  I guess it won't be long before Rachel will have to keep the laptop out of his reach.  I remember mine rolling over and over to get where they wanted to be before they could crawl.
Rachel has started taking Kaiden to swimming lesson.  He is loving it.  I have posted one here for you to see.  He is cute isn't he?
Here is another cute one 🙂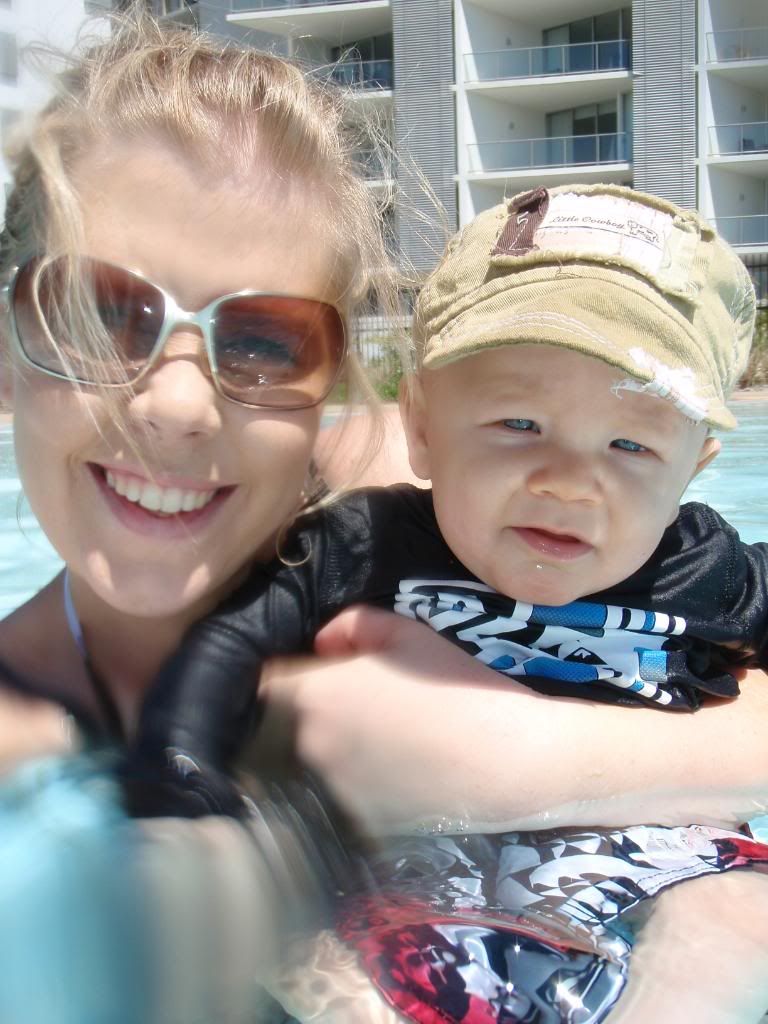 I look forward to catching you next time.
Have a top day 🙂
Sharon